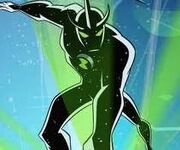 Alien X is the Codon Stream's DNA Sample of a Celestialsapien from The Forge of Creation
Appearances
Edit
Powers and Abilities (and Weaknesses)
Edit
Alien X can do anything, provided his minds (Serena, Bellicus, and Ben can agree (2 to 1 at least). This includes even simple actions.
Description
Edit
Humanoid and resembles the space around him. He wears the Omnitrix/Ultimatrix symbol on his chest.
Ad blocker interference detected!
Wikia is a free-to-use site that makes money from advertising. We have a modified experience for viewers using ad blockers

Wikia is not accessible if you've made further modifications. Remove the custom ad blocker rule(s) and the page will load as expected.