Ampethyst is an alien that first appeared in Dylan 11: Ultimate Evolution. He is an alien in the Infinitrix, being added by the Plumber's for unknown reasons. He is an Amethysapien from the planet Crystoria.
Appearance
Edit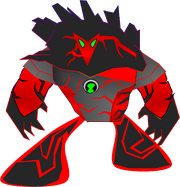 Ampethyst is tall and bulky in appearance. He is made up of mostly red and grey crystals.His head is surrounded by purple-grey crystals. He has green eyes and the Infinitrix symbol on his chest.
Powers and Abilities
Edit
Ampethyst can shoot crystals from any part of his body. He can also create soundwaves by smashing his hands together. If a crystal is shot from his body, after a few seconds it produces a high pitched squeal that can knock people unconscious.
Ampethyst's name is a combination of the Crystal, Amethyst and the word Amplify (A reference to how the crystals act as an amplifier for Ampethyst's sonic squeal).
Ampethyst has an Infinite Form, Infinite Ampethyst.
Ampethyst is the first alien used in Dylan 11: Ultimate Evolution, and Infinite Ampethyst is the first Infinite Form used.
Ampethyst is Dylan's favourite alien in the Infinitrix. He tries to use him as much as possible. Dylan 11,000 also appears to consider Ampethyst his favourite, as he uses Ampethyst's powers as Infinite Dylan more than any other aliens.
Ampethyst's species developed their sonic abilities during a war over a million years ago. The evolution took five million years, and led to an Amethysapien victory.
Ad blocker interference detected!
Wikia is a free-to-use site that makes money from advertising. We have a modified experience for viewers using ad blockers

Wikia is not accessible if you've made further modifications. Remove the custom ad blocker rule(s) and the page will load as expected.