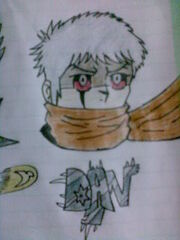 Appearance
Edit
he is a dumb guy with silver hair and white eyes he wears a brown scarf black T-shirt blue jeanse and black shoes. he has a scar on his face.
'Personality'Edit
'he is so calm and doesn't talk at all he only talks by his master Syth'
'Powers and Abilities'Edit
he uses the powers of the wolvriene his own soul.he can shoot bones bullets from his body.he can turn himself into the shape of his soul.
Ad blocker interference detected!
Wikia is a free-to-use site that makes money from advertising. We have a modified experience for viewers using ad blockers

Wikia is not accessible if you've made further modifications. Remove the custom ad blocker rule(s) and the page will load as expected.