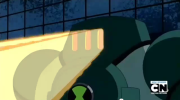 NRG is the Codon Stream's DNA sample of a Prypiatosian-B from an unknown planet in the Andromeda Galaxy.
Appearances
Edit
Ben 10 Ultimate Universe :
Edit
Ben 10: The Alien GenerationEdit
Powers and Abilities
Edit
Radioactive control enables for nuclear blasts, melting of metal and rock, generating intense heat, radioactive blasts, heat and radiation immunity, and channeling lava. His suit is protective armor, and he has a degree of ehanced strength (even without the suit). Without the suit, he is a radioactive plasma energy being and his power is much stronger. He can also fly in this form.
Description
Edit
A humanoid alien of pure radioactivity contained in a suit made of a durable metal, piercable only by Taedenite. He wears the Ultimatrix symbol on his suit's chest plate.
Ad blocker interference detected!
Wikia is a free-to-use site that makes money from advertising. We have a modified experience for viewers using ad blockers

Wikia is not accessible if you've made further modifications. Remove the custom ad blocker rule(s) and the page will load as expected.