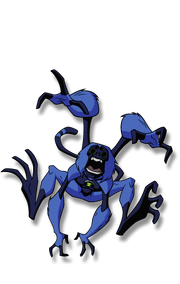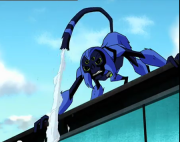 Spidermonkey is the Codon Stream's DNA Sample of an Arachnachimp from the planet Aranhaschimmia.
Appearances
Edit
Ben 10 Ultiamte Universe:
Edit
Ben 10: The Alien Generation
Powers and Abilities
Edit
Spidermonkey can spin webs, in numerous ways, and has better hearing and strength than a human. He is also very agile and has sticky fur.
Description
Edit
Spidermonkey is monkey-like, insect-like and arachnid-like, having six limbs, four eyes and blue fur over dark blue skin. He wears the Omnitrix/Ultimatrix symbol on his chest.
Ad blocker interference detected!
Wikia is a free-to-use site that makes money from advertising. We have a modified experience for viewers using ad blockers

Wikia is not accessible if you've made further modifications. Remove the custom ad blocker rule(s) and the page will load as expected.