Stinkfly is the Codon Stream's DNA sample of a Lepidopterran from the planet Lepidopterra.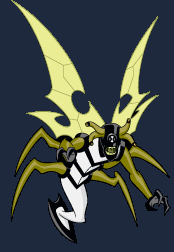 Powers and Abilities
Edit
Stinkfly can shoot slime, poison gas, and has 360 vision. As well as that, he can fly, can use the sharp end of his tail as a blade, and shoot blue beams from his eyes.
Appearances
Edit
Ghost of Past by Outbreak:
Edit
Ben 10: The Alien Generation
Description
Edit
The Omnitrix symbol was originally on his forehead. The Ultimatrix symbol is on his chest. He has 4 legs and 2 arms.
Ad blocker interference detected!
Wikia is a free-to-use site that makes money from advertising. We have a modified experience for viewers using ad blockers

Wikia is not accessible if you've made further modifications. Remove the custom ad blocker rule(s) and the page will load as expected.