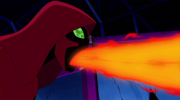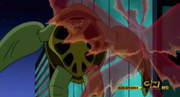 Utimate Big Chill is the evolved form of Big Chill.
Appearances
Edit
Ben 10: The Alien Generation
Description
Edit
Big Chill is a red humanoid moth and his colour depicts that he is more fire based than his lesser, regular Big Chill. His wings fold into a cloak just like Big Chill's. He wears the Ultimatrix symbol on his chest.
Powers and Abilities
Edit
Ultimate Big Chill can become intangible, can fly much faster than Big Chill, and can breathe/manipulate ice at a level that is considered a heat draining plasma beam and freezes things better and faster than Big Chill's cryokinesis.
It is very possible that Ultimate Big Chill reproduces similarly to Big Chill, by spewing eggs out through the mouth, a thing that every Necrofriggian does every 80 years.
Ad blocker interference detected!
Wikia is a free-to-use site that makes money from advertising. We have a modified experience for viewers using ad blockers

Wikia is not accessible if you've made further modifications. Remove the custom ad blocker rule(s) and the page will load as expected.